27-04-2015 0006 hrs (NZST)
Final Update
The flight has landed safely in Wellington so the Team will be heading home as soon as they have collected their bags and cleared Customs.
26-04-2015 2059 hrs (NZST) 1859 hrs (EST)
Flight Home Update
The flight is was due to depart at 2045 hrs (NZST) 1845 hrs (EST) and scheduled to land in Wellington at 2359 hrst (NZST).
They departed about 15 minutes late but look to be making that time up in transit.
You can check on the flights progress via the following link:
NZ0842 from Sydney to Wellington Intl
26-04-2015 1858 hrs (NZST) 1658 hrs (EST)
Flight Home
Everyone is all checked in and are having dinner before they board.
The flight is due to depart at 2045 hrs (NZST) 1845 hrs (EST) and scheduled to land in Wellington at 2359 hrst (NZST).
26-04-2015 0930 hrs (NZST) 0730 hrs (EST)
Final Day
As the song lyrics say
"All my bags are packed, I'm ready to go"
"Cause I'm leavin' on a jet plane, don't know when I'll be back again'"
Well in our case the vans are packed and we are heading back to Sydney to catch our flight home to Godzone.
If we are lucky and have enough time we will be stoppping off at HMAS Albatross, also known as Naval Air Station (NAS) Nowra.
It is an airfield operated by the Royal Australian Navy (RAN), in support of the RAN's aviation branch, the Fleet Air Arm. It is also home to No. 330 (City of Shoalhaven) Squadron, Australian Air Force Cadets.
25-04-2015 2100 hrs (NZST) 1900 hrs (EST)
Day 7:
ANZAC DAY
The main purpose of our trip, to represent New Zealand cadets in the Canberra ANZAC Day Parade, has arrived.
Up at 0600 hrs to get prepared for the parade, breakfast at 0700 hrs and then changed into blues.
The cadets piled into the vans at 0830 hrs and we headed down to find our starting spot on Canberra's ANZAC Parade.
We were marching with 120 air cadets from Canberra, positioned at the back of the parade.
The cadets were in their positions by 0930 hrs.
The parade started at 1015 hrs but the size of the parade meant we didn't start to move until 1100 hrs.
Marching more than one kilometre up the parade and into the ceremony area, in front of 31,000 spectators, was a moving experience. The pomp and ceremony of this ANZAC service in Australia's capital did not disappoint.
The ceremony finished at 1230 hrs with a fly by of two F18s and a Wedgetail.
It was a long walk back to the vans and back to HMAS Harman to change out of our blues and have sandwiches for lunch.
We had a free afternoon and the cadets were keen for a last minute shop. We headed off to Canberra's Outlet Centre, just down the road from HMAS Harman. Back for dinner and an evening of packing up ready for a early departure tomorrow morning for the drive back to Sydney and our flight home.
24-04-2015 2100 hrs (NZST) 1900 hrs (EST)
Day 6:
The day started for the cadets at 0600 hrs with parade practice for ANZAC Day. Then is was a quick shower and breakfast before we were back in the vans for a day of sightseeing around Canberra. We started with a foggy view of Canberra from Mount Ainsley.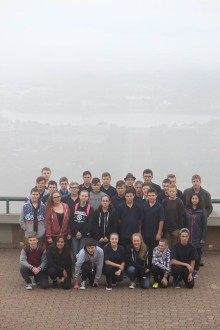 The fog cleared by the time we were well on the way to Tidbinbilla to visit the Canberra Deep Space Communication Complex.

One of the satellite dishes received and relayed the first images of Neil Armstrong's moon walk, as shown in the movie "The Dish".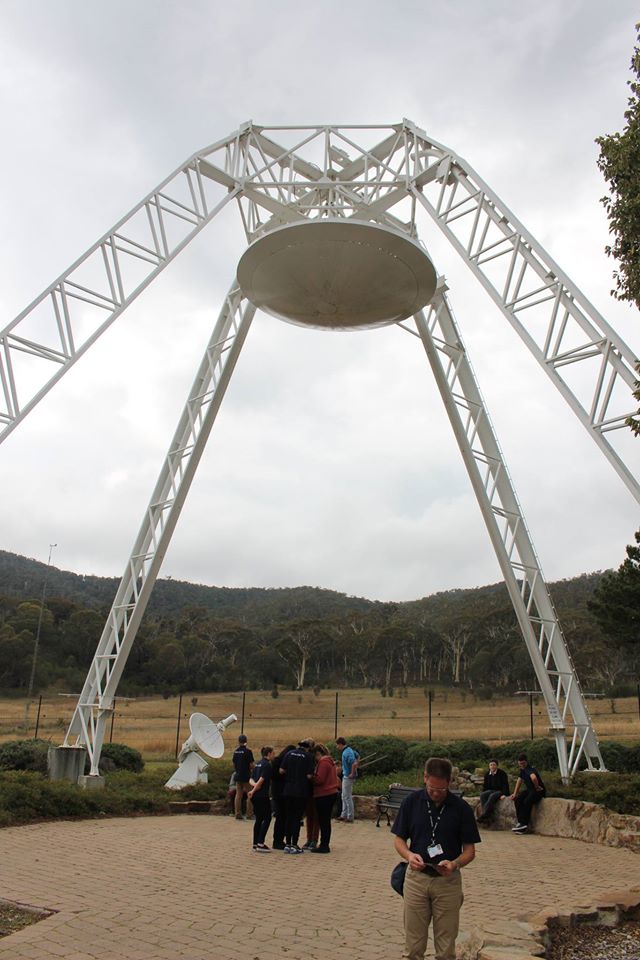 Back to HMAS Harman for a quick lunch and moving onto the Canberra District Exhibition via the military supply shop. The exhibition shows Canberra's history, from its original design and the 100 years it has taken to get it where it is today. We then stopped off at the New Zealand Memorial on ANZAC Parade on the way to Australia's National War Memorial. The War Memorial would take several days to see all the exhibits.
It is truly a fantastic display of Australia's military history and they have Last Post every day at 1700 hrs.
It is a moving experience and includes reading the background of a different fallen soldier every night.
Back to HMAS Harman for dinner, more parade practice and any last minute uniform preparations for tomorrow.
23-04-2015 2100 hrs (NZST) 1900 hrs (EST)
Day 5:
The cadets woke up to blue sky for the first time on this trip, which was a good sign for a great day.
The cadets were up at 0600 hrs for PT, shower and breakfast before cleaning up our Camden home for the last four days.
We were on the road to Canberra by 0900 hrs for the 2.5 hour drive. Clear weather and no traffic meant we made good enough time to stop at a Canberra lookout


before having lunch at the Australian Defence Force Academy's (ADFA) Officer Cadet mess.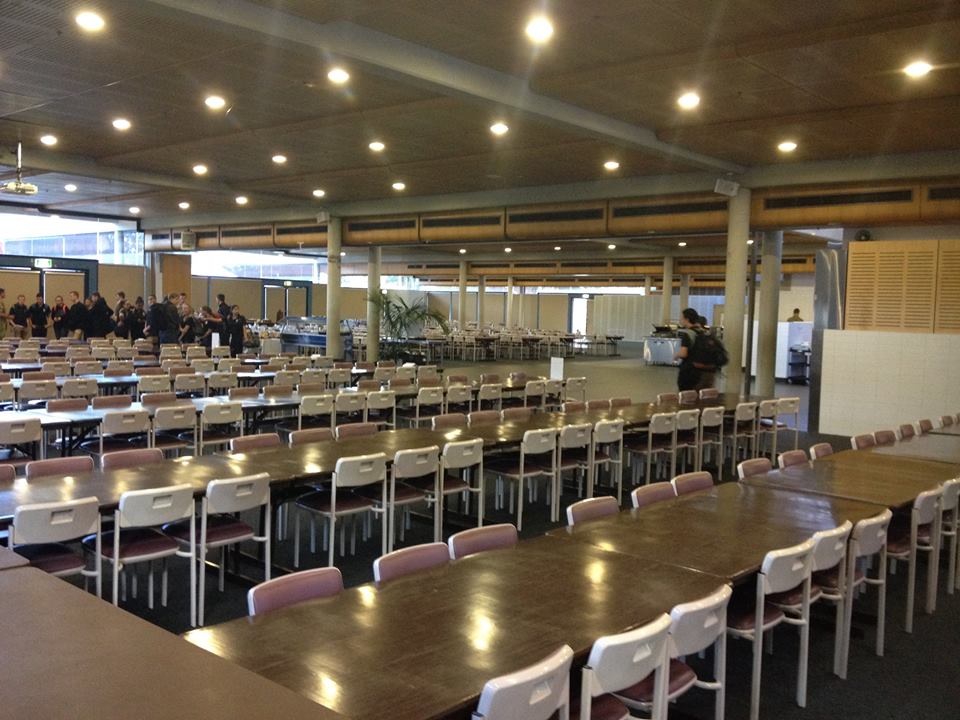 This is Australia's largest military mess, feeding nearly 1,000 people for breakfast, lunch and dinner every day.
ADFA hosted the cadets for the afternoon, taking them for a tour on the military and academic sides of the academy.
F/S Craig Dawson was our host and we were also joined by a Kiwi student at the academy, OCDT Hayden Van der Hogk.


The cadets got a real insight to what it is like to be a student at ADFA. ADFA is an incredible facility where all three of Australia's military forces train their officers. The New Zealand's military sends four cadets a year to ADFA.
The highlight of the afternoon was the over water obstacle course.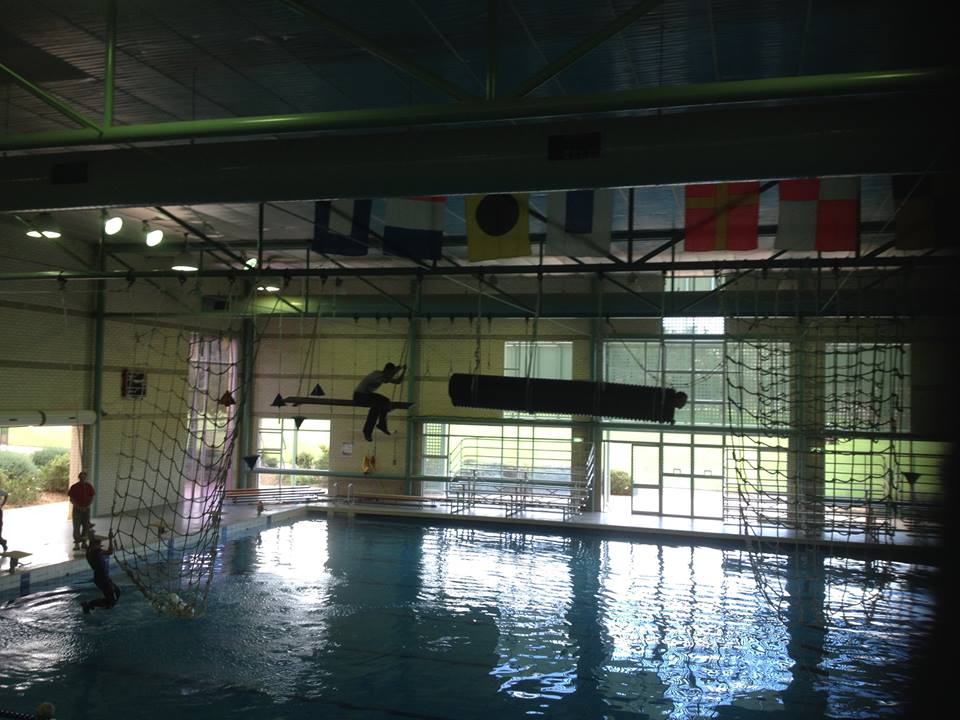 Only two cadets finished the course, but all the cadets and officers that tried enjoyed the challenge.
We then headed to HMAS Harmen for dinner and moved into our accommodation while in Canberra.
Given we have a big day planned tomorrow, after dinner was about getting uniforms sorted for Saturday and early to bed.
22-04-2015 0950 hrs (NZST) 0750 hrs (EST)
Day 4:
Another day and it is still raining.
This has caused another change in our plans.
Today was supposed to be Williamtown Air Force Base but because of the weather and the base has had damage in the storm, so it is essential personal only.
So we have a 'Plan B', we are off to the Heritage Aircraft Restoration Society which has about 40 plus planes including a 747 etc.
Trying to keep the trip on the military flying theme and keep out of Sydney City as much as possible.
More updates as we go along today.
FGOFF Phil Baker
22-04-2015 0104 hrs (NZST) 21-04-2015 2304 hrs (EST)
Wow what a couple of days we have had with the weather but the Cadets I have under my wing are still loving it and happy with the challenges forced onto us by mother nature.
I am very proud of how they are handling the situation's put on us.
Like the navy base being shut down to essential personal due to the weather cutting our visit short, very long drives in traffic jams due to weather related issues with power lines down and trees and more umbrellas in rubbish bins than I have ever seen before, and that is saying something since I come from Wellington.
And all going well with the trip so far. 🙂
FGOFF Phil Baker
21-04-2015 2240 hrs (NZST) 2040 hrs (EST)
The rain didn't let up from yesterday and continued through the night.
We had the vans on the road just after 0800 hrs for the 1 hour 15 min drive to the Australian Navel base at Garden Island.
A combination of the weather and downed power lines across the M5 Pacific Highway doubled the travel time to 2.5 hours, making us an hour late for our visit to the Maritime Heritage Museum.
The museum is a great historical display of the Royal Australian Navy (RAN).
After the museum visit the RAN hosted the cadets at HMAS Kattabul's sailor mess.
In the afternoon the RAN provided the cadets with a tour of HMAS Sydney, a guided missile frigate.
Unfortunately the weather forced the cancellation of our harbour tour, so, after the frigate tour is was back to Camden via a quick look at Bondi Beach.
The storm had generated some impressive waves.
The day finished with dinner and a movie.
Another day ending with lying in bed listening to the rain pouring down on the roof.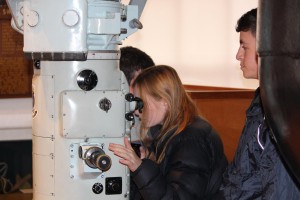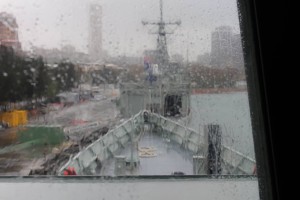 21-04-2015 2110 hrs (NZST) 1910 hrs (EST)
Just a quick message to everyone back in Godzone to confirm that we are all well and are currently back at Camden.
21-04-2015 1555 hrs (NZST) 1355 hrs (EST)
Here is an article from the STUFF website about the trip.
21-04-2015 1529 hrs (NZST) 1329 hrs (EST)
Have been through the Navy Museum.
No go for outing on harbour, things are a bit of a mess weather wise here.
Lunch in the mess went well, we are now off to visit the HMAS Sydney to do a tour.
RAAF Williamstown cancelled due to the weather so won't happen tomorrow.
Rob West has created a plan B for us to visit an aircraft restoration group, so sticking to the aviation theme!
21-04-2015 1012 hrs (NZST) 0812 hrs (EST)
This morning we are off to the Naval Base at Woolloomooloo.
Hope to get out on the water but weather is pretty bad so we will have to wait and see.
Rest of the day will be touring the facilities and a tour of HMAS Sydney.
20-04-2015 2304 hrs (NZST) 2104 hrs (EST)
The day started wet and finished wetter, but we still had a great day.
In the morning the Blacktown Mayor, Stephen Bali, welcomed the cadets at Featherdale Wildlife Park.
After seeing the Australian wildlife we moved onto Blacktown Mall for lunch and shopping.
Blacktown Mall is four stories of extensive shopping that was busier on a Monday afternoon than Coastlands at Christmas time!
Then into town, across the Sydney Harbour Bridge and a stop off to walk around the Opera House. The rain didn't dampen the cadets enthusiasm to see these Sydney landmarks.
Then it was into the vans to head back to Camden, grabbing dinner on the way home, for a movie before retiring for the night.